Pumpkin Risotto: An Autumn Feast on Your Table
By Pascal
|
19 October 2023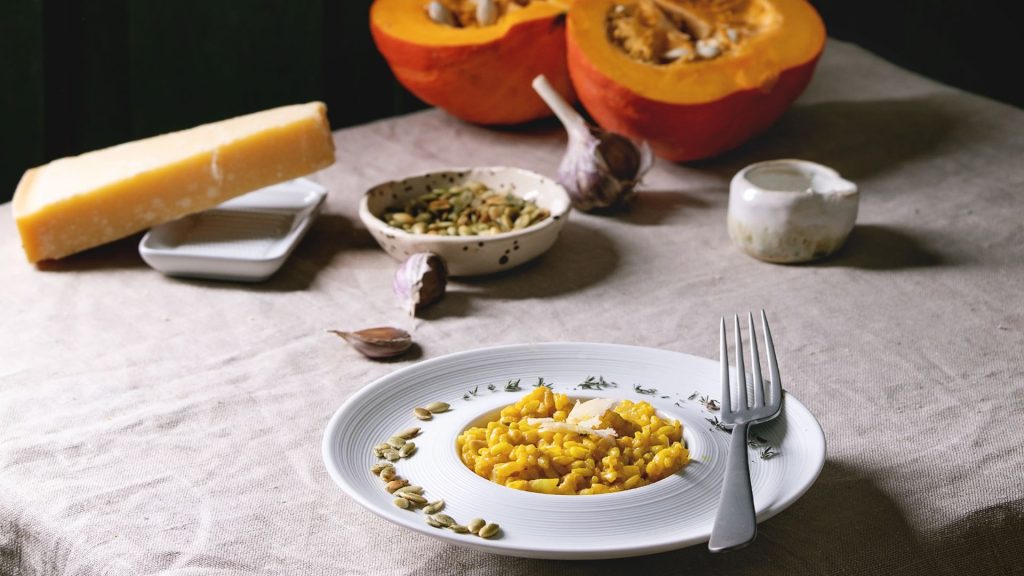 With the arrival of autumn, a world of flavours and colours opens up, inspiring us to create delicious dishes with seasonal ingredients. Today, I want to share with you a recipe that celebrates the star of this season: pumpkin. 
Get ready for a feast of flavours with my Pumpkin Risotto with Aged Pecorino Pepper, Porcini Mushrooms and Granny Smith Apples. This recipe is perfect for welcoming autumn to your table and delighting your guests with its exquisite flavour.
Ingredients for 4 people:
1 small butternut squash

2 shallots

50 g unsalted butter

10 cl dry white wine

1/4 litre vegetable stock

1 clove of garlic

30 g grated pecorino with pepper

1 decilitre (1 glass) of olive oil

Diced boletus stalks

1 Granny Smith apple, diced
Start by cutting the

pumpkin

into small cubes, reserving the trimmings for the

pumpkin cream

. Chop one of the shallots. In a saucepan, heat half of the butter and the

olive oil

. Add the shallot and the

pumpkin

trimmings and fry for 3 minutes. Then add a little vegetable stock to cover and cook for 15 minutes, checking that the pumpkin is cooked through. Season with salt and pepper, mix well and set aside.

In a frying pan, fry the other shallot without browning and add the pumpkin and diced porcini mushrooms with a little olive oil. Cook for 3 minutes and then deglaze with the white wine. Reduce and add the rest of the vegetable stock, grated garlic and cloves. Continue cooking until the pumpkin is cooked through. Add the pecorino, diced apple and cook for a further 2 minutes, stirring constantly. Add salt and pepper to taste and finish the risotto with the remaining butter and olive oil.
Finally, arrange the risotto in the bottom of a deep dish and garnish with the thinly sliced porcini mushroom heads.
This pumpkin risotto with aged pecorino pepper, porcini mushrooms and Granny Smith apples is an explosion of autumnal flavours. Every bite will transport you to a world of unique sensations. 
Autumn is served on your table!