Organic Salmon Escalope: A dream culinary experience
By Pascal
|
14 November 2023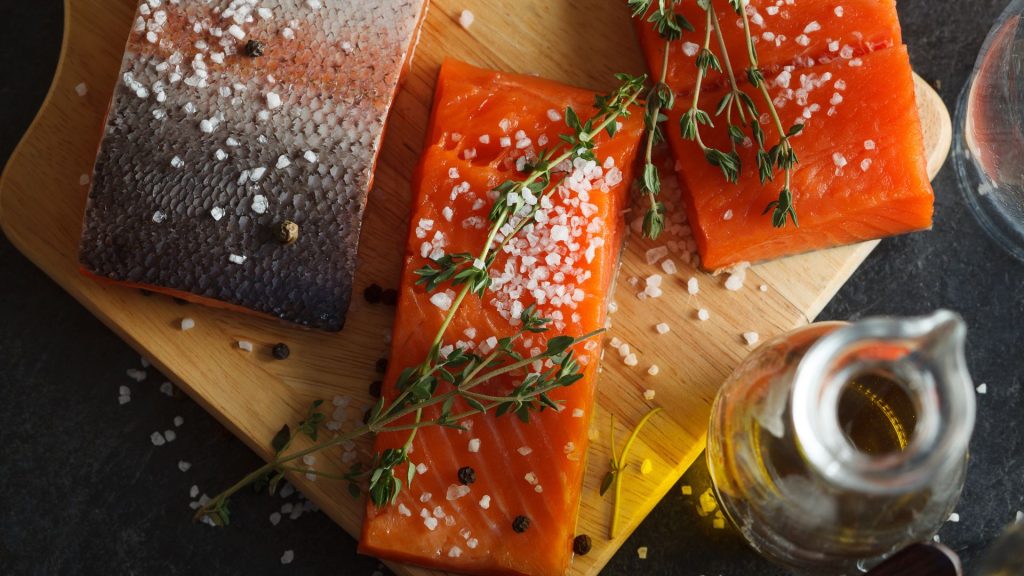 Autumn is like the springtime of winter, when the trees unfurl their dazzling palette of colours to give way to the blossoming of the mushrooms. For passionate cooks, it is a particularly sensual season, full of aromas and nuances that transport us like a mirror to the first days of spring, with its faint glow and a basket full of precious ingredients that inspire kitchens across the country.
Wild game and mushrooms play their part with the complicity of roasted chestnuts, while walnuts and hazelnuts compete for a place in the most outstanding culinary creations emerging from the corners of the country. But we must not overlook the fruits and root vegetables that complete this rich palette of textures and flavours, fuelling cooks' passion for comforting dishes.
Prepare yourself for an exceptional culinary experience with an escalope of organic salmon cooked to perfection, sautéed chanterelles with garlic confit and a refreshing salad of lamb's lettuce and white grapes, all topped with a delicious bread tuile.
For this recipe, which serves 4 people, you will need:
4 generous escalopes of

organic salmon

, each weighing 140 grams.

300 grams of

fresh chanterelles

.

8 cloves of

garlic

.

Half a bunch of flat-leaf

parsley

.

30 grams unsalted

butter

.

2 tablespoons of

olive oil

.

1 tablespoon

grapeseed oil

.
4 slices of sandwich bread.
Start by carefully sorting the chanterelles

. Wash and drain them. In a frying pan, heat a touch of grapeseed oil and quickly sauté the chanterelles to release their flavour and aroma. Then drain and sauté again with a touch of butter and adjust to desired seasoning. Add chopped flat-leaf parsley for a final touch of freshness.

In another pan, melt the rest of the butter together with the olive oil

. Brown the slices of shortbread, and in the same pan, gently cook the salmon escalopes until golden brown on one side. Add the garlic cloves blanched in boiling water until tender, and cook together with the salmon to complete cooking.

For the salad, wash and drain the lamb's lettuce

and cut the grapes into quarters. Place in a salad bowl, season with a pinch of fleur de sel, a pinch of Moroccan black pepper and a drizzle of olive oil. Then refrigerate until ready to serve.

When it's time to present the dish

, place a slice of golden bread at the bottom of the plate, followed by a

perfectly cooked salmon

escalope topped with the sautéed chanterelles. Accompany this delicacy with a generous portion of grape salad, creating a bouquet of flavours and textures to delight your guests.
So, dear friends, to your kitchens! It's time to unleash your culinary creativity with this new recipe.