Preparing a Healthy Halloween: Pumpkin Oatmeal Cookies
By Pascal
|
17 October 2023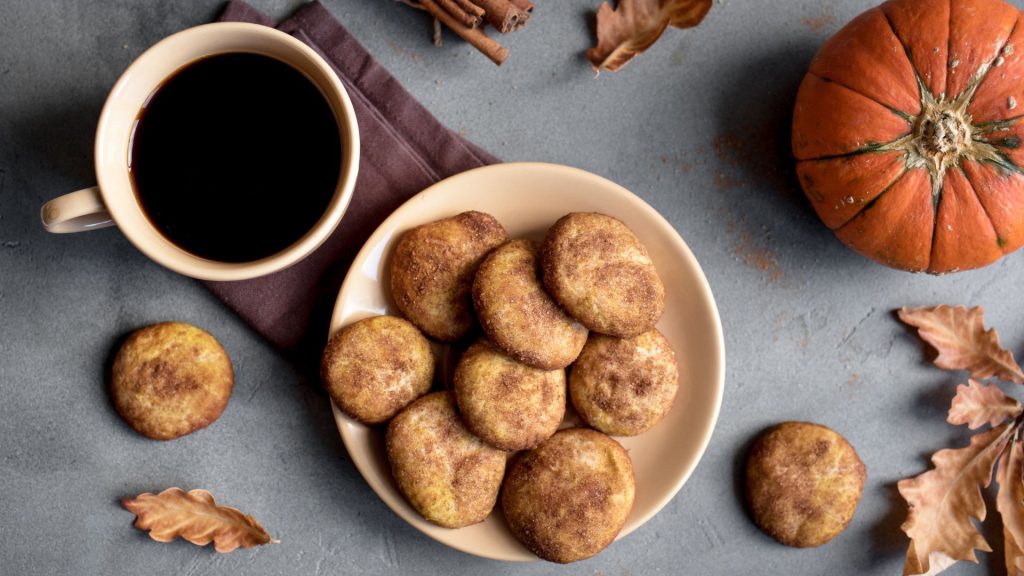 Hello everyone! Halloween season is approaching, and as a personal chef, I want to share with you a special recipe to celebrate in a delicious and healthy way. This time, I present to you some pumpkin oatmeal biscuits that are simply irresistible. Not only are they a treat for the palate, but they are also a nutritious option that you can enjoy as a family. Join me on this culinary adventure and find out how to prepare these delicious biscuits!
1 cup

pumpkin puree

(you can cook and mash fresh pumpkin or use canned pumpkin with no sugar added).

1/2 cup

almond butter

(or your favorite nut butter)

1/4 cup

honey or maple syrup

(adjust the amount according to your sweetness preference)

1

egg

2 teaspoons

vanilla extract

2 cups

oats

(be sure to use gluten-free oats if necessary)

1 teaspoon

baking powder

1 teaspoon

cinnamon

1/2 teaspoon

nutmeg
1/2 cup dark chocolate chips (optional, but delicious)
Preheat your oven to

180°C

(350°F) and line a baking sheet with parchment paper.

In a large bowl, combine the

pumpkin puree

, almond butter, honey or maple syrup, egg and vanilla extract. Mix well until all the ingredients are incorporated.

In another bowl, mix together the oats, baking powder,

cinnamon

and nutmeg.

Add the dry ingredients to the

wet mixture

and stir until a smooth batter forms. If desired, add the chocolate chips and mix until evenly distributed in the batter.

Using an ice cream scoop or your hands, form balls of dough and place them on the prepared baking sheet. Use your fingers or a spatula to gently flatten the biscuits.

Bake in the preheated oven for

12-15 minutes

or until the biscuits are golden brown around the edges.

Remove the biscuits from the oven and let them cool

on the tray for a few minutes before transferring them to a wire rack to cool completely.
Once the biscuits are completely cool, they are ready to enjoy!
These pumpkin oatmeal biscuits are not only delicious, but also offer health benefits. Here are a few reasons why they are an excellent choice:
Nutritious Pumpkin: Pumpkin is an excellent

source of vitamin A

, essential for vision and skin health. It also provides fibre and antioxidants.

Whole Grain Oats: Oats are a source of slow-release carbohydrates that will keep you full of

energy for longer

. It is also rich in soluble fibre, which is beneficial for heart health.

Healthy Fats:

Almond butter provides healthy fats

, protein and fibre, making them an excellent choice to keep you full and satisfied.

Less Sugar: These biscuits use honey or maple syrup instead of refined sugar,

reducing the amount of added sugar

.

Healthy Spices: Cinnamon and nutmeg not only add flavour, but also have health benefits, such as blood sugar regulation and anti-inflammatory properties.

Gluten-free option: If they opt to use certified gluten-free oats, these biscuits may be suitable for people with gluten sensitivities.
If you want to personalise these biscuits even more, here are some ideas:
Experiment with other spices, such as ginger or cloves, for a different twist on the flavour.

Add chopped walnuts or almonds instead of chocolate chips for a crunchy touch.

Substitute peanut butter or nut butter for the almond butter if you prefer.
These pumpkin oatmeal biscuits are perfect for sharing with friends and family on Halloween or any occasion. They are a reminder that you can enjoy delicious desserts while taking care of your health – I hope you give them a try and that they are a big hit at your next Halloween celebration!
Remember that creativity in the kitchen is key, so feel free to adjust the recipe according to your personal preferences.
Happy Halloween and happy cooking!